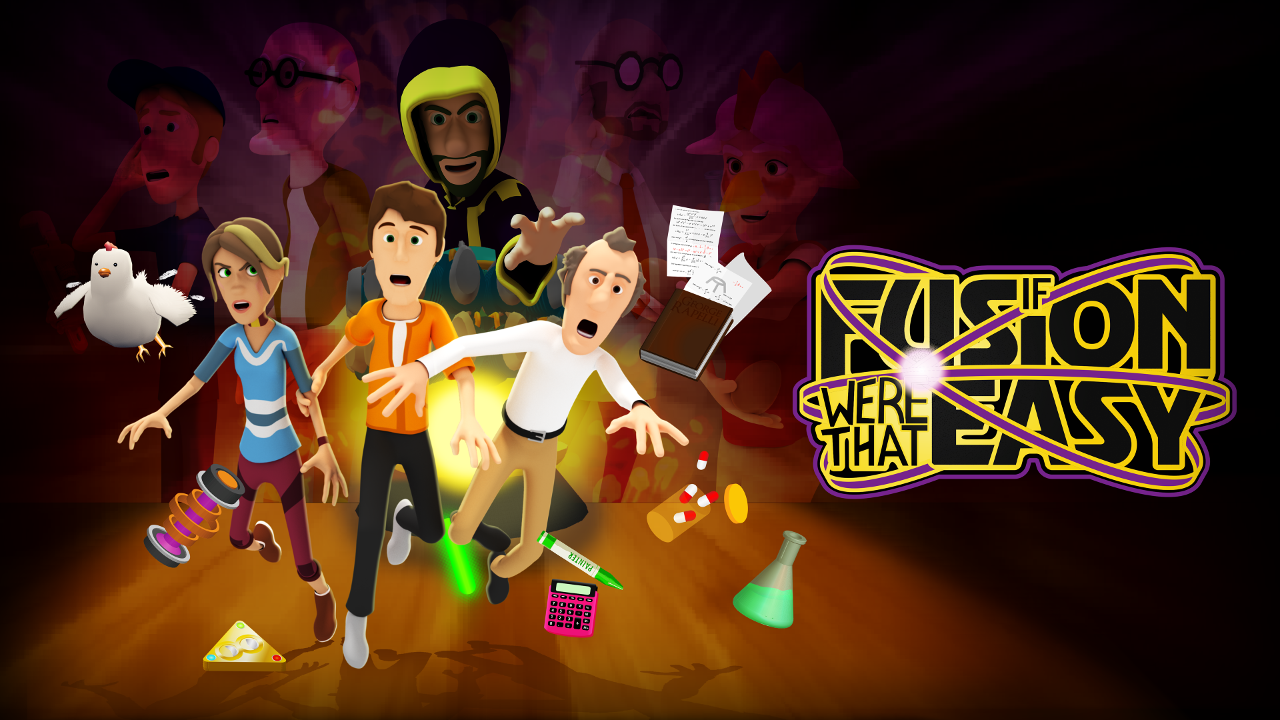 If Fusion Were That Easy
A downloadable game for Windows, macOS, and Linux
If Fusion Were That Easy is a classic point-and-click adventure.
You take on the role of the young physicist Daniel, who is working on a reactor for cold fusion. As the project spiraled out of control, a mysterious association emerges that somehow appears to be involved. When Daniel meets crazy old George, the chaos seems perfect.
A mixture of 2D pixel art and 3D characters and elements creates a unique visual world of experience that invites you to explore and discover. Games like "The Secret of Monkey Island" or the Deponia series, but also Professor Layton, have inspired this game. With an exciting story, lots of humor, and challenging puzzles, If Fusion Were That Easy offers hours of fun entertainment.
In summary, If Fusion Were That Easy can be described as a modern retro point-and-click adventure that you can never have enough of.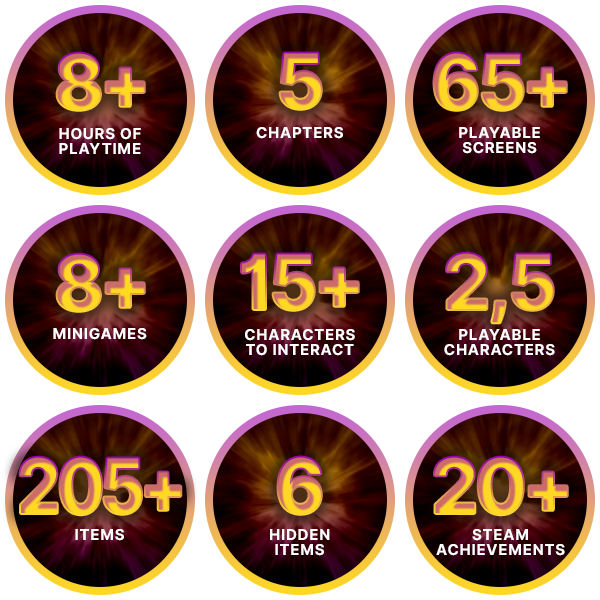 | | |
| --- | --- |
| Status | Released |
| Platforms | Windows, macOS, Linux |
| Release date | Oct 31, 2022 |
| Rating | |
| Author | Golden Coin Games |
| Genre | Puzzle, Adventure, Visual Novel |
| Made with | Blender, Adobe Photoshop, Audacity, GIMP |
| Tags | Funny, Narrative, Pixel Art, Point & Click, Retro, Sci-fi, Singleplayer |
| Average session | About a half-hour |
| Languages | German, English |
| Inputs | Keyboard, Mouse, Xbox controller, Gamepad (any), Playstation controller |
| Accessibility | Subtitles, Interactive tutorial |
| Links | Steam, Kickstarter, Steam, Homepage, Twitter |
Purchase
In order to download this game you must purchase it at or above the minimum price of $14.99 USD. You will get access to the following files:
ifwte_win_retail_1_0_0_8.zip
861 MB
ifwte_linux_retail_1_0_0_8.zip
877 MB
ifwte_macos_retail_1_0_0_8.zip
862 MB
Download demo
Comments
Log in with itch.io to leave a comment.
I


f you have any kind of questions or need some quick support you can find us on Discord.
https://discord.gg/eR4kMdg79w

Hello Golden Coin games,
I'm having a small problem when starting the (full) game. I can't seem to get past the old style telephone screen when I select "new game". How do I get past that screen, no keyboard input, nor controller input allow me to proceed past that screen when I select "new game". But if I force close the game and then restart it and select "continue game", I can proceed with both characters at the reactor, which I assume is the beginning of the game.
Choosing "new game" always takes me to the telephone screen and the game seems to be soft-locked there.

What am I doing wrong?
Thanks

Ah, yes this is a bug we had if someone played the demo and an old autosave is corrupting the game start.

you need to delete the Autosaves of the Demo.

C:\Users\%username%\AppData\Local\Golden Coin Games\If Fusion Were That Easy\Savegames


Thank you so much for the Report. Totally forgot about this will fix it today!

yes, that was it (as you well know). I see I missed a bunch of content as the full game starts, so I'm glad I asked. Thank you very much for your very prompt response.
Hi!
Mir gefiel die Demo. Das Spiel hat was, wobei mir hochauflösende Grafik lieber wäre. Der Nagellack war ne süße offensichtliche Idee. Ich hoffe, dass die Rätsel nicht nur technischer Natur sind. Das mit der Taube sieht gut aus. Herwischen des Inventars aus beiden Richtungen erlauben - ebenso das Wegwischen, was noch optimiert werden kann. Den 'normalen' Mauszeiger nicht zu sehr komplett ghosten. Wegklicken der Kommentare auch mit rechter Maustaste ermöglichen (Trackpad-Gemütlichkeit). ...

Gutes Gelingen!
Hi, luznac !
Hatte deinen Kommentar ganz übersehen. Danke für dass tollte Feedback! Nein, die Rätsel sind nicht alle technischer Natur. Im Hauptspiel ist man an vielen Orten unterwegs und muss nicht überall alles durch technik lösen :) Das Inventar weiterwischen wechselt im Hauptspiel zur Übersichts/Schnellreise Karte, mal sehen ob ich deine Wünsche da noch unter bekomme :D
Den Mauszeiger "ausgegraut" darstellen versuche ich auf jeden Fall!

Danke nochmals und viel Spaß.

Hi!
Habt Ihr auch ein DRM-Freies €-Angebot?
Dank Wechselkurs & PayPal kostet das Spiel, mit Rabatt, über 15€.
Glückwunsch zur Veröffentlichung.

I played the demo, and I have some constructive criticism if you want.
The main thing is that some of the puzzles are a bit convoluted, and I only solved them by randomly trying different things. For example, there shouldn't be any logical reason that the red nail polish would change the ohms of one of the resistors, it's just a red liquid. Also, the dead battery + soda = acid bath was a bit of a stretch. I feel like it should have been more clear that the dead battery wasn't just a piece of junk, like the old fuse and the moldy yogurt. What distinguishes the battery from those junk items? How would the player know that?
I definitely recommend getting more playtesting from people who haven't seen the game before and note when they are confused, how long some puzzles take them, and what solutions they try. I enjoyed some of the puzzles, but I got frustrated a few times because of how much trial and error I had to use. If you want to encourage your player to try everything on everything, give them different text results. For example, instead of "That doesn't work." and "Nope. Nothing", try "I need this soda to be more acidic if I want to clean this lump." or "I don't want to make this object red with nail polish! Maybe I can use it on something else..." The puzzles should make sense.
Also, if you want to engage your player more, give a good reason why they are the only person who can fix the fusion box. Why can't the professor do it if he's standing right there? Maybe have him preoccupied with keeping the room from blowing up, so it's up to Daniel to find the components that the fusion box needs.
Other than that, I liked the art style, and the UI was really good. I love how the mouse icon always lets me know what clicking will do. The characters were funny, and I had a good time playing. Good luck on development!
P.S. That elevator ride was wayyy too long. I thought I soft-locked the game, and I almost quit.
Hi EzraKiteck!
Thank you so much for playing our Game and also thank you for taking the time to write this awesome feedback!

I will differently improve on the "not working" responses, that's a good point. I try to shift them more into a hint system because if you try something wrong, may a hint in the right direction is a good idea. Especially while trying to combine items.
Also, visually occupying the professor is a good idea. As far as I can tell he was very busy while you were outside of the screen :)
So, you are right, for me as a creator of this logic it´s always hard to rate how logical this would be for other players, so thank you again for your constructive feedback will try to improve there!
Good to hear! I hope development goes well and that this game becomes something really awesome.
Also, I totally forgot about the hint system haha. Normally I challenge myself to not use hints since I like to figure stuff out, but I'm sure that would have helped out. Woops!
It seems like an interesting game. I'd like to try the demo, but the Mac version crashes on M1.
Hi, Stone Age Jazz,
I updated the mac packet can you try to run the app again? Thank you so much so reporting the issue!
A cute intro to the game. One item I thought was a little weird to make but didn't really get stuck because of that so.. onward to the next cold fusion try!

Thank you so much for testing! subbed for sure :)
Nice game, graphics are nice, game runs well, and overall for what it is, it seems pretty good!